Tsunesaburo Makiguchi Website | Home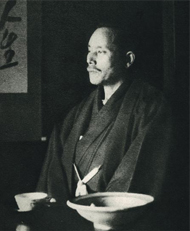 Tsunesaburo Makiguchi (1871-1944) was a forward-thinking geographer, educational theorist and religious reformer who lived and worked during the tumultuous early decades of Japan's modern era. His opposition to Japan's militarism and nationalism led to his imprisonment and death during World War II.
Makiguchi is best known for two major works,
The Geography of Human Life and The System of Value-Creating Pedagogy, and as the founder, in 1930, of the Soka Gakkai, which is today the largest lay Buddhist organization in Japan and has 12 million members worldwide.
Consistent throughout his writing and in his work as a classroom teacher and school principal is his belief in the centrality of the happiness of the individual. This same commitment can be seen in his role as a religious reformer: he rejected the attempts of the authorities to subvert the essence of the Buddhist teachings, insisting that religion always exists to serve human needs.